Roberto González Echevarría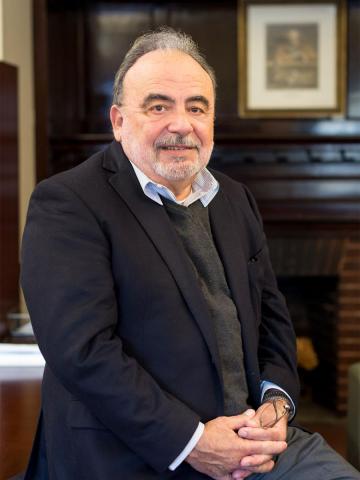 Sterling Professor of Spanish and Portuguese and Professor of Comparative Literature
Roberto González Echevarría, B.A. University of South Florida, M.A. Indiana University, Ph.D. Yale University, faculty member at Yale in 1970-71 and from 1977 to the present: While your literary purview has always embraced French and Italian as well as Spanish language literatures, the breadth of your contributions to Spanish and Latin American literary studies is extraordinary. Your works on the literature of the Spanish Golden Age (sixteenth and seventeenth centuries) are considered classics. Your studies on the literature of Latin America are foundational, daring, and enduring. Apart from their appearance in English and Spanish, your works have been translated into French, German, Hebrew, Italian, Persian, Polish, Portuguese, and Chinese.  
You have directed more than seventy doctoral dissertations in the fields of Hispanic and Comparative Literatures, some thirty of which later appeared as books. Universities here and abroad are populated by your former students; many are now senior scholars in mid-career while your most recent graduates fill the tenure-track ranks. In addition, your direction of three residential seminars sponsored by the National Endowment for the Humanities has yielded a significant number of colleagues around the country. 
You have served as chair of the Department of Spanish and Portuguese for a total of more than sixteen years, building and rebuilding the department, and you chaired Yale's Council on Latin American Studies (now, the Council on Latin American and Iberian Studies) for six. 
As a distinguished professor of the humanities you were named a DeVane Professor. Your DeVane Lecture course, "Love and the Law in Cervantes," became the basis for your book of that title, and a more recent version of your Quijote course appears online in "Open Yale Courses"; recorded a decade ago, it continues to bring you admiring readers from around the world. With Love and the Law in Cervantes, your Myth and Archive: A Theory of Latin American Narrative comprise the twin pillars of your enduring work. Never confined by the boundaries of national literatures or nativist traditions, your Alejo Carpentier: The Pilgrim at Home and Celestina's Brood: Continuities of the Baroque in Spanish and Latin American Literatures are your testament to the value of literature produced in the language of Cervantes. 
You have served the academy at large with your co-editorship of the three-volume Cambridge History of Latin American Literature. For the general public, you edited The Oxford Book of Latin American Short Stories; as an alternate selection by the Book-of-the-Month Club with more than 35,000 copies sold, it has brought Latin American literature to English-language readers worldwide. Your The Pride of Havana: A History of Cuban Baseball is your love letter to your homeland. That affection has been reciprocated by the testimonies you receive from readers here and abroad, including Cuban political prisoners in their jail cells. Baseball fans everywhere know your book, and your occasional appearances in the press box during Major League Baseball games register the respect in which professional baseball holds you.  
You have received honorary doctorates from your alma mater, the University of South Florida, Colgate University and Columbia University. But among many honors that you have received, one stands out: President Barack Obama awarded you a National Humanities Medal in a glittering ceremony at the White House in March, 2011. On that occasion, you must have looked back to reflect not only on your career but also on your immigration with your parents from Cuba to the United States in the wake of the Cuban Revolution, when you were age sixteen. Today it is the University's turn to pay tribute.