Keith Wrightson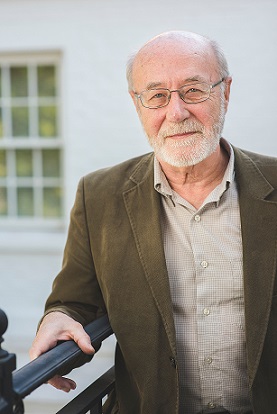 Randolph W. Townsend, Jr. Professor of History
Keith Wrightson, B.A. and Ph.D. University of Cambridge, faculty member at Yale since 1999:  You are a historian of early modern England, and one of the most distinguished social historians of your time. When you arrived at Yale on the cusp of the new century you had already been a distinguished faculty member at St. Andrews and at Cambridge, where you were professor of social history. Your early work with David Levine on the Essex village of Terling, Poverty and Piety in an English Village, introduced to English social history the "microhistorical" approach already engaged by European historians. This approach concentrates not on the grand sweep of history, history writ large, but in English terms the history of locales, villages, families, of the community, of what the Germans call Alltagsgeschichte, the scarcely changing world of the butcher, the baker, the candlestick maker. Of these you have been a master. 
You may be best known to students for your innovative survey English Society, 1580–1680, which has been in continuous print since 1982. But it may be in others of your books – The Making of an Industrial Society on the coal mining of Wickham, also written with David Levine, and your timely and inspired 2011 Ralph Tailor's Summer, charting the history of a plague outbreak in 1636 from the perspective of a young scrivener who wrote the wills of plague victims – that your special approach to history is most clearly seen. To these you added your synoptic Earthly Necessities: Economic Lives in Early Modern Britain, which won the John Ben Snow Prize of the North American Conference on British Studies in 2001.
You are, always modest, nonetheless much beribboned, as a Fellow of the British Academy and the Royal Historical Society, with honorary degrees from the universities of Durham and Newcastle, among other honors and awards, but you have never lost your appetite for the places where people actually live and work. It seems fitting, therefore, that when you arrived at Yale in 1999 you settled yourself in a cozy office in Jonathan Edwards College, where you could often be seen sitting outside on a spring or summer day, the courtyard in its green and pleasant a peaceful remembrance of a small English village green. Into your JE office in Entryway L streamed a long line of undergraduates and graduate students, because you were an excellent teacher, adviser, and mentor, giving yourself with time and care to students who appreciated and admired you. It is no wonder, then, that in 2013 a volume of essays in your honor, Remaking English Society: Social Relations and Social Change in Early Modern England, was edited by your students, testimony to those you trained in your particular approach to history over the years who are now its authorities in colleges and universities.
 You have said, "Looking back beyond the modern era in our study of history, to the early modern era or 'the deep past'" is important "because it creates meaning. It helps us to understand ourselves in time, in a deeper way." For helping Yale students and colleagues to understand themselves in time in a special way, your third university thanks you for what you have brought to it, and wishes you well as you continue to illuminate the deep past.